This rare collection of over 270 vintage European and American lace, trims and fabric (c.1930-50's), belonged to my mother Aura Cortes. Carefully preserved for over 60 years, their beauty and craftsmanship were a source of great inspiration for her own distinctive style. It is a veritable treasure trove sure to inspire a designer or collector who appreciates exquisite textile artistry.
The collection is only available for sale in its entirety. Yardages vary and are listed with the photos, as well as any existing imperfections. A viewing of the collection can be arranged in New Milford, CT or NYC by appointment.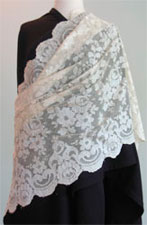 It is my wish that these rare beauties find their way into the creative hands of someone interested in adding them to an existing collection, or a designer with the imagination and creativity to transform them into stunning, elegant, one-of-a-kind fashion creations. They were my mother's muses and have been waiting patiently for a breath of new life. Let them be your catalyst for inspiration.
Aura Carr
For more information and to arrange a viewing contact
(845) 721-6932